The Foundation: Mastery Course for All Christians
The Requirements
Study Plan Includes:
The Requirements cover the 6 Principles of the Doctrine of Christ listed in Hebrews 6:1-2. This powerful series allows students to immerse themselves in each principle with full-length Bible class videos, deep dives into scriptural definitions, comprehensive topical outlines, interactive study activities, and more.
CHOOSE THE OPTION THAT IS BEST FOR YOU!
How to Get Started
Take a Look Inside
See a sample of the book
View a sample of the workbook. Get your copy today!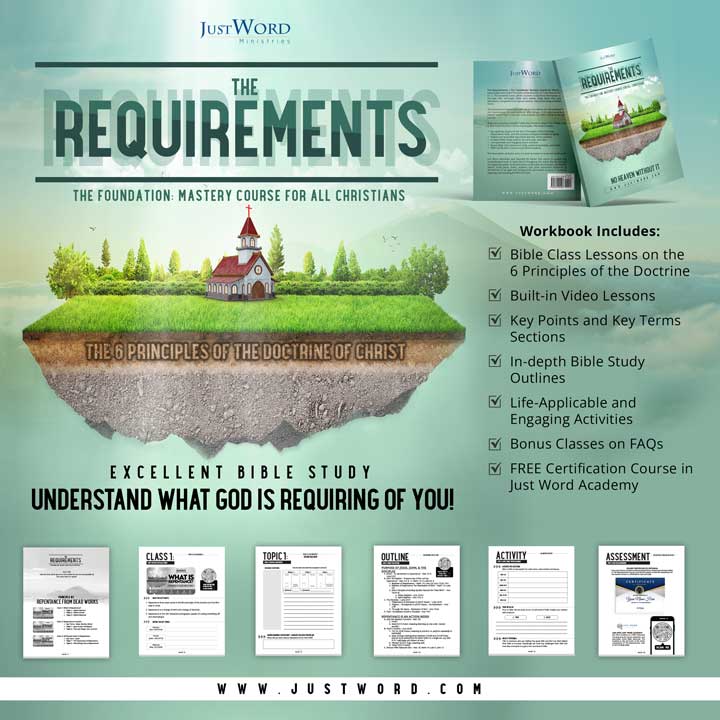 The Foundation: Mastery Course for All Christians
The Requirements
Learn how to use the tools God gave us to defeat the enemy. This Armor is tried and tested sure to to work! It is God's Armor after all!
Bonus Material Included!
In-depth study of each weapon in the Armour
7 full-length Bible Classes
6 Short Videos covering each weapon
Encouraging playlist to listen to on the go
Real-life examples of each weapon
SOUND BIBLICAL TEACHING
WATCH POWERFUL CLASSES
3 Classes on Repentance
3 Classes on Faith
3 Classes on Water Baptism
3 Classes on Spirit Baptism
Check out our other study Plans
A READING & REVIEW WORKBOOK Wisdom of Proverbs Study Plan Includes: The book of Proverbs is incredibly rich, meaningful, and practical. With this workbook (and bonus…
Partner Challenge Wisdom in Real LIfe Study Plan Includes: The wisdom in God's Word is always relevant! LEARN about four practical topics — Decisions, Social Circle,…
Prioritize your relationship with God 30 Day Challenge Study Plan Includes: Are you ready to get closer to God? This 30-day challenge is what you have…